We have recently been commissioned by the Infocomm Development Authority of Singapore (IDA) to carry out an Internet of School Things project in Singapore. The project is being run on a similar model to Project Distance and will involve equipping Singaporean schools with loggers and sensors so that they can carry out IoT experiments. The data they gather from their investigations is uploaded to the Distance Exploratory, our cloud-based data hub.
We will be working with five schools across Singapore, two primary and three secondary. A key component of the project involves training and engaging teachers in how to use the equipment to explore its full potential. At an early stage we went out to Singapore to install the equipment and brainstorm ideas with teachers. We also carried out online ideation sessions with teachers and students to introduce them to the concept of the Internet of Things and discuss how it can be used in education and in their classrooms.
The Internet of Things brings a "real-world" quality to education which enables students and teachers alike to investigate their own surroundings in a very immediate way. The Singapore project is one of exploration in which we are seeking to empower students and teachers to direct their learning into areas which are of genuine interest and relevance to their lives. As a result the schools will be provided with a variety of sensors so that they can carry out investigations they design and that fit with their individual needs. The schools are hoping to use the project to explore IOST logo globe copy saveissues such as how they can control their classroom temperature and how much power devices use.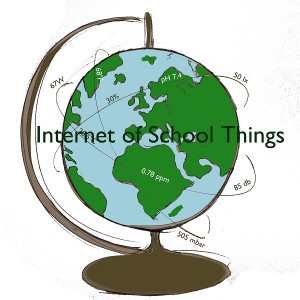 Each school will also receive an air quality weather station which can measure rain levels, temperature, light, and pollution levels. Although Singapore is a small country the exciting thing about using the Interne
t of Things to gather data is that it should be possible to see even minor differences. Students can then try to hypothesize what features of their surroundings could be affecting the temperature or pollution levels even within the same city.
Another exciting aspect of the project is the facility it provides for global interaction. The internet enabled people to easily communicate with people the other side of the world, the Internet of Things is making it possible for people to share data and information about their environment in real time. The Distance Exploratory already displays data from the schools we engaged with the Peterborough project and Project Distance. Now with data being uploaded from Singapore students can compare the differences in weather phenomena on a global scale and perhaps find something in common in, for example, noise levels in classrooms!